---
Norman CATHERINE
"The last remains of another Man", 1988/1991
Mixed media (wood, metal, canvas, acrylic) - 171x066x024 cm
PELMAMA Register MAMS NCAT 91/05
---
Provenance:
The Haenggi Foundation Inc., Johannesburg
Gallery 21, Johannesburg
Centre panel exhibited:
Artimex Fine Arts, Basel, 1997/98 - PELMAMA Permanent Art Collection
---
The above centre panel is all that remains from the original concept illustrated hereunder, created in 1988:
Original work 1988 - side and front view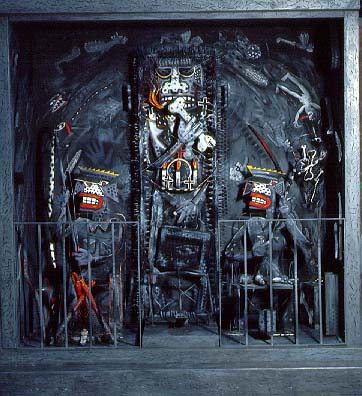 Original work illustrated:
"Resistance Art in South Africa" (Sue Williamson) (David Philip Publishers), 1989, p. 126
"Norman Catherine" (H Friedman/Bowie/Jamal) (Goodman Gallery), 2000, p. 72/73
Original meas.: 200x200x150 cm
See also:
"DU", Zurich, Dec/Jan 1995/96, No. 12/1, p. 135, ill.
Copyright:
© Copyright to this work is held by Norman Catherine
---
This page last updated 15th January, 2015