The Johannesburg Art Scene from the 60's to the 90's
Gallery 21 Johannesburg and its London branch
Gallery 21's premises in Johannesburg between 1972 and 1993
---
1972 - 1976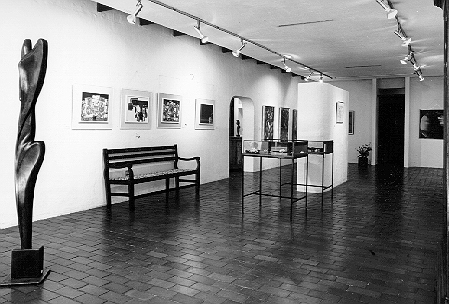 Hyde Park Corner Shopping Centre, Sandton
Gallery 21 stretched over 3 adjoining rooms on the upper floor - rooms 101 to 103. This image is from 1973, showing in room 103 paintings by Walter BATTISS, a sculpture by Zoltan BORBEREKI, a work by Larry SCULLY (at b.r.), in the middle displays of gold jewellery by H. Peter CULLMAN (who later emigrated to Toronto). The bench is an old Transvaal riempie bank (much later in Basel!)
Another view of Gallery 21's three rooms (101-103) at the Hyde Park Corner Shopping Centre, Sandton
This image shows an exhibition of works by Joan Miró and Lucas Sithole which spread throughout the gallery - Nov. 1973. The illustration unfortunately is of a poor quality, taken from a "third proof" for an advert prepared by the Grapple Group, Sandton, to present the new centre.
The centre had been developed by the Behrman family who had commissioned major artworks by leading artists, such as a large graffito mural by Cecil Skotnes, a huge mosaic mural by Armando Baldinelli amd a huge bronze by Edoardo Villa.
---
1977 - 1983
Equity House, 88 Fox Street, cor. Harrison Street, Johannesburg
Gallery 21 occupied the whole of the first floor of this building, right in the financial centre of Johannesburg, until construction of the new adjoining JCI complex, forcing the gallery to move to an even older building next door, by the end of 1983
Main exhibition area of Gallery 21 at Equity House, 88 Fox Street, Johannesburg (with works by Lucas SITHOLE, Zoltan BORBEREKI, Ronald MYLCHREEST, a.o., on view in 1978)
---
1984-1994
Victory House, bordering Commissioner, Harrison & Fox Street, Johannesburg
(at back right one can see Equity House)
At one stage Gallery 21 stretched over half of the 3rd floor of Victory House (195 m2), on the Fox Street side - by the time it closed for good, there had been no other white owned businesses in it for quite a while - the city was changing rapidly! The building was one of the oldest surviving in Johannesburg's financial centre, then just over 100 years old. Its owners were the Amoils family who also owned many other old buildings in the city centre.
Part of the PELMAMA PERMANENT ART COLLECTION on view at Victory House Johannesburg - Oct. 1992, showing works by Elisabeth Harington, William Steyn, Maryna Huyser, Nico van Rensburg and privately owned Lucas Sithole - Oct.1992
---
This page last updated 20th January, 2015