---
Paul Michael SIBISI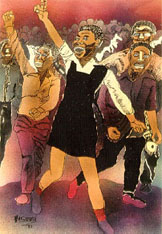 "Love and Peace", 1981 - Pen + ink & wash - 66x45 cm
PELMAMA Register AAMC PSIB 81/01
---
Work on permanent loan to the
University of Fort Hare, Alice
since 1990
Prize Awarded:
The Gallery 21 Prize - "South Africa Now, 1981" organised by The Haenggi Foundation Inc., Johannesburg (4th overall winner)
Work exhibited:
African Art Centre, Durban - May 1981
Work illustrated:
Art of the South African Townships (Gavin Younge) (Thames & Hudson London), 1988, p. 18 (as "Umzavela Unrest")
"Images of Man" (E.J. de Jager), 1992, p. 192, cat. 222, ill.
Work reviewed:
The Daily News, Durban - 10th July 1981
Copyright:
©Copyright to this work is held by The Haenggi Foundation Inc. under signed agreement with the artist, dated 27.7.1981
---
This page last updated 12th January, 2015